Words of Encouragement & Quotes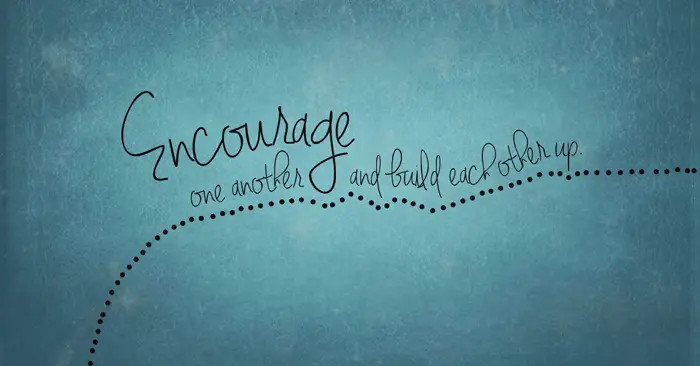 Are you in need of some words of encouragement?
Here is a list of the best encouraging quotes that will help inspire you when you are feeling down:
"Do one thing every day that scares you." – Anonymous
"The only person you are destined to become is the person you decide to be." – Ralph Waldo Emerson
"There are moments when troubles enter our lives and we can do nothing to avoid them. But they are there for a reason. Only when we have overcome them will we understand why they were there." ― Paulo Coelho
"You can either complain about it or grind, I choose to grind." ― Kyle Vidrine
"When you start loving yourself and respecting your time and energy, things will change. Get to know your worth, and your value will go up." ― Germany Kent
"Thankfully, persistence is a great substitute for talent." ― Steve Martin
"A barrier is a limitation only when you perceive it as one." ― Stephen Richards
"The ones who are crazy enough to think they can change the world, are the ones that do." – Anonymous
"Don't Just
Don't just learn, experience.
Don't just read, absorb.
Don't just change, transform.
Don't just relate, advocate.
Don't just promise, prove.
Don't just criticize, encourage.
Don't just think, ponder.
Don't just take, give.
Don't just see, feel.
Don't just dream, do.
Don't just hear, listen.
Don't just talk, act.
Don't just tell, show.
Don't just exist, live."
― Roy T. Bennett
"A word of encouragement during a failure is worth more than an hour of praise after success." – unknown
"Discipline is the thing that makes you do what you might not want to, but you do it anyway because it's what you have to do in order to get what you want or desire." ― Kyle Vidrine
"It's strange how we tend to underestimate the power of small steps and think that they are not at all useful or effectual; instead we use them as a pretext to freeze. Remember every step counts- even the longest journey begins with the first step. So go ahead take those baby steps and you never know they may bring about the much needed change your life…" ― Latika Teotia
"When one door closes another door opens; but we so often look so long and so regretfully upon the closed door, that we do not see the ones which open for us." –
Alexander Graham Bell
"You cannot expect victory and plan for defeat." ― Joel Osteen
"Sometimes we have to soak ourselves in the tears and fears of the past to water our future gardens." ― Suzy Kassem
"Everyone has inside them a piece of good news. The good news is you don't know how great you can be! How much you can love! What you can accomplish! And what your potential is." – Anne Frank
"Dream again, think again, and live again." ― Kyle Vidrine
"Ask yourself: what is it, that if I believed it down to my core, would change everything?" ― Kamal Ravikant
"Your strength doesn't come from winning. It comes from struggles and hardship. Everything that you go through prepares you for the next level." ― Germany Kent
"When you compete against yourself, you both win." ― Frank Sonnenberg
"The best revenge is massive success."– Frank Sinatra
"Never underestimate the power you have to take your life in a new direction." ― Germany Kent
"The act of going within, finding our truth, and then sharing it, it helps us far more than we know." ― Kamal Ravikant
"Anyone can conquer anything, but the conquest of self frees the ego, and rewards one with limitless boundaries" ― Val Uchendu
"Time flies. It's up to you to be the navigator." ― Robert Orben
"A fire is born long before its first flame." ― Angelos Michalopoulos
"Never stop dreaming,
never stop believing,
never give up,
never stop trying, and
never stop learning."
― Roy T. Bennett
"Start where you are. Use what you have. Do what you can." – Arthur Ashe
"People must come to the understanding that they do not have a fixed identity. They have the power to identify and alter features of their personalities that they find negative or unpleasant." ― Lisa Firestone
"The power behind taking responsibility for your actions lies in putting an end to negative thought patterns. You no longer dwell on what went wrong or focus on whom you are going to blame. You don't waste time building roadblocks to your success. Instead, you are set free and can now focus on succeeding." ― Lori Myers
"Focusing is the great secret of power. If you want to use your full amount of focus, you must close down all other thought and direct your power of generating mental steam toward one outcome." ― Stephen Richards
"Each person has got a voice inside them. Communicate with it and take hold of it. Do not let it push and shove you around – you are its master!" ― Stephen Richards
"You may not have connections, or an education, or wealth, but with enough passion and sweat, you can make anything happen." ― Gary Vaynerchuk
"To change the world takes time; to change yourself takes courage." ― R.S. Lowel
"Change begins with you. It only takes a moment to make a difference in the lives of others." ― Bobby F. Kimbrough Jr.
"Treat a man as he is and he will remain as he is. Treat a man as he can and should be and he will become as he can and should be." ― Stephen R. Covey
"Acknowledgement is possession. When you acknowledge, think or have conviction in something, it actually will come true." ― Stephen Richards
"Life is a succession of lessons which must be lived to be understood." – Helen Keller
"When people around you do not support your personal growth and reinvention, it doesn't mean you are on the wrong path or that you have to listen to them. Just because someone continues to judge you from where you were doesn't mean you have to stay there." ― Susan C. Young
"We can't be afraid of change. You may feel very secure in the pond that you are in, but if you never venture out of it, you will never know that there is such a thing as an ocean, a sea. Holding onto something that is good for you now, may be the very reason why you don't have something better." ― C. JoyBell C.
"We script our own psyche. We each journey alone. The path that we take through life proves to be every person's supreme test of mental, physical, and emotional stamina, and the final determiner of his or her intellectual, ethical, and spiritual attainment." ― Kilroy J. Oldster
"I've found that trying to be like everyone else, do what others do and follow others 'guaranteed path' to 'so-called success' never really works for me. I have found my best strategy is to authentically be me, listen within and follow it….and then to treat and connect with others – wherever I can – personally, personably and individually." ― Rasheed Ogunlaru
"Everything will be okay in the end. If it's not okay, then it's not the end."
― Ed Sheeran