Confidence Quotes
Need to build your self-esteem and gain more confidence?
We have compiled over 1000 of the best motivational and inspirational quotes about confidence that will help you break through any plateaus and overcome any obstacle.
Because remember…
This is YOUR life and you have the power to choose in any situation what it means to you.
Life is meaningless.
You get the opportunity to define the situation you are in.
So if you are not feeling as confident as you want, its because either:
A. You are not prepared.
If this is the case, take some action and get more prepared. Take some courses and learn what you need to learn.
And of course…practice, practice, and more practice!
The great ones focus on perfecting the details.
Or,
B. You have chosen to give into negativity
You have allowed your mind to beat you down and get the best of you.
If this is the case, then pick yourself back up, close your eyes, countdown from 3, 2, 1, and then open your eyes.
It's a brand new you.
Literally!
See yourself as being reborn and move forward without looking back. Use each breath and moment to create the version of yourself that kicks ass.
Now, here are some motivational and inspirational quotes to help you feel more confident: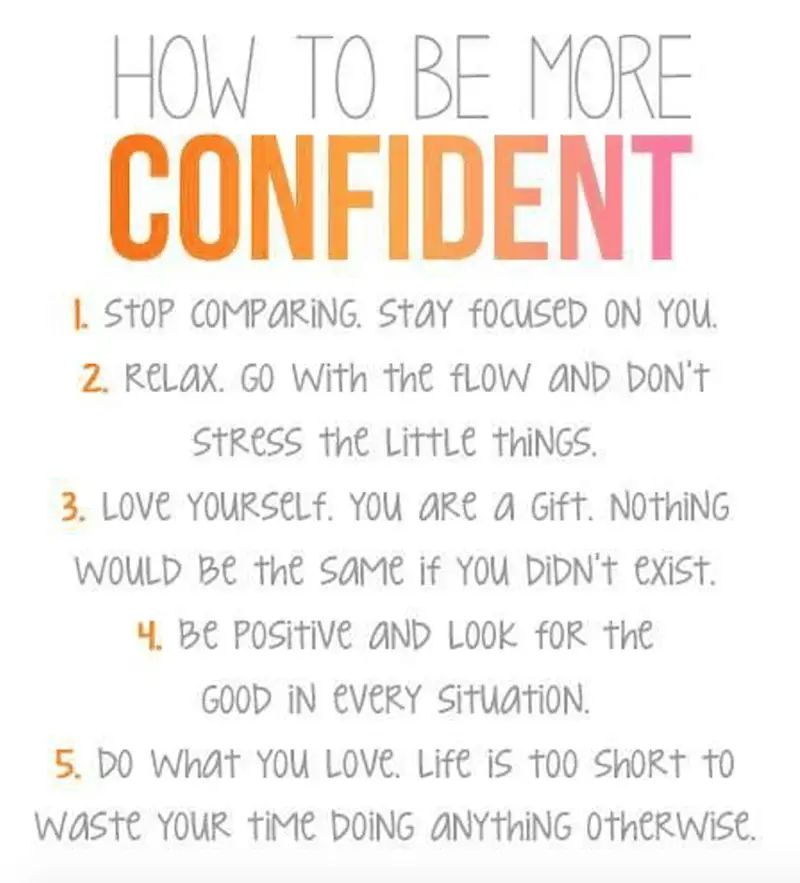 QUOTES ABOUT CONFIDENCE 
"What consumes your mind controls your life."
"What you choose to focus on expands and grows."
"Confidence comes from discipline and training." – Robert Kiyosaki
"No one can make you feel inferior without your consent." – Eleanor Roosevelt
"It takes courage to grow up and become who you really are." ― E.E. Cummings
"Our deepest fear is not that we are inadequate. Our deepest fear is that we are powerful beyond measure. It is our light, not our darkness, that most frightens us. We ask ourselves, 'Who am I to be brilliant, gorgeous, talented, fabulous?' Actually, who are you not to be?" – Marianne Williamson
"Love who you are, embrace who you are. Love yourself. When you love yourself, people can kind of pick up on that: they can see confidence, they can see self-esteem, and naturally, people gravitate towards you." – Lilly Singh
"Optimism is the faith that leads to achievement. Nothing can be done without hope and confidence." – Helen Keller
"What you think of yourself is much more important than what people think of you."
"Always be yourself and have faith in yourself. Do not go out and look for a successful personality and try to duplicate it." – Bruce Lee
"The moment you doubt whether you can fly, you cease for ever to be able to do it."
― J.M. Barrie
"Believe in yourself! Have faith in your abilities! Without a humble but reasonable confidence in your own powers you cannot be successful or happy." – Norman Vincent Peale
"Confidence is something you create in yourself by believing in who you are."
"Confidence comes not from always being right but from not fearing to be wrong." – Peter T. Mcintyre
"Don't be afraid of your fears. They're not there to scare you. They're there to let you know that something is worth it." ― C. JoyBell C.
"The best way to gain self-confidence is to do what you are afraid to do." – Swati Sharma
"Don't think about what might go wrong. Think about what might go right."
"You gain strength, courage, and confidence by every experience in which you really stop to look fear in the face. You are able to say to yourself, 'I lived through this horror. I can take the next thing that comes along." Eleanor Roosevelt
"Because one believes in oneself, one doesn't try to convince others. Because one is content with oneself, one doesn't need others' approval. Because one accepts oneself, the whole world accepts him or her." ― Lao Tzu
"Whether you think you can or can't, your'e right."
"The worst enemy to creativity is self-doubt." ― Sylvia Plath
"Confidence is not 'They will like me'
Confidence is 'I'll be fine if they don't"
"The pain you feel today is the strength you feel tomorrow."
"As long as you look for someone else to validate who you are by seeking their approval, you are setting yourself up for disaster. You have to be whole and complete in yourself. No one can give you that. You have to know who you are – what others say is irrelevant." ― Nic Sheff
"Be humble in your confidence yet courageous in your character." – Melanie Koulouris
"Remember…you are braver than you believe, stronger than you seem, and smarter than you think."
Don't wait until everything is just right. It will never be perfect. There will always be challenges, obstacles and less than perfect conditions. So what. Get started now. With each step you take, you will grow stronger and stronger, more and more skilled, more and more self-confident and more and more successful. – Mark Victor Hansen
"Confidence is a habit that can be developed by acting as if you already had the confidence you desire to have." Brian Tracy
"With confidence you have won before you have started." – Marcus Garvey
"I am in charge of how I feel and today I am feeling happiness."
"Even the greatest were beginners. Don't be afraid to take that first step."
"I am thankful for all of those who said no to me. It's because of them I am doing it myself."
To have faith doesn't mean you get any less frustrated when you don't do your best, but you know that it's not life and death. Take what you're given, and when you continue to work hard, you will see results. That will give you the confidence you need to keep going. Tom Lehman
"Inaction breeds doubt and fear. Action breeds confidence and courage. If you want to conquer fear, do not sit home and think about it. Go out and get busy." Dale Carnegie
"Train your mind to see the good in any situation."
"Talk to yourself in the same way you would to someone you love."
"Courage is resistance to fear, mastery of fear – not absence of fear." ― Mark Twain
"Self-confidence is the most attractive quality a person can have. How can anyone see how great you are if you can't see it yourself?"
"It is not the mountain we conquer, but ourselves." Sir Edmund Hillary
"Your positive action combined with positive thinking results in success."
"Confront the dark parts of yourself, and work to banish them with illumination and forgiveness. Your willingness to wrestle with your demons will cause your angels to sing."
― August Wilson
"With realization of one's own potential and self-confidence in one's ability, one can build a better world." – Dalai Lama
"Successful people have fear, successful people have doubts, and successful people have worries. They just don't let these feelings stop them." – T. Harv Eker
The only person who can pull me down is myself, and I'm not going to let myself pull me down anymore."
― C. JoyBell C
RELATED QUOTES
RESOURCES