Motivational Quotes For The Grind, Hard Work, & Hustle
Need some inspiration?
Ready to get pumped up?
We have compiled over 1000 of the best inspirational & motivational quotes and sayings for those who are grinding and hustling.
Lets face it…
If you gonna git shit done its going to take a lot of hard work.
Every day you are going to have to exercise the most powerful muscle you have: your mind.
People are going to doubt you.
You will even doubt yourself.
But we both know that the only way you will hit your goals is if you have the right mindset in place.
That's why we have aggregated over 1000 of the best inspirational and motivational quotes about hard work: so you can use these to prime your mind and get pumped up.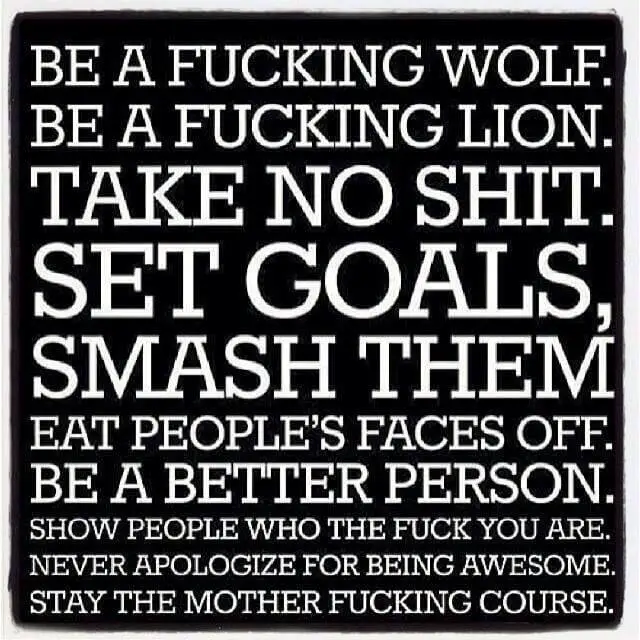 QUOTES ABOUT GRINDING HUSTLING & HARD WORK
"A year from now…we'll see who was really working."
"I'm using your hate as my fuel."
"Not all hustle is loud. Sometimes hustle is just you, all alone, grinding, while no one hears a sound."
"Don't wish it were easier. Wish you were better." ― Jim Rohn
"I'm tired"…said my body.
"I can't do it"…said my mind.
"But I still haven't made it"…said my heart.
So I went back to the grind."
"You will never always be motivated. You have to learn to be disciplined."
"I've got a dream that is worth more than my sleep." – Eric Thomas
Entrepreneur – A crazy person who risks their own money for freedom, rather than exchanging their freedom for money.
"Be addicted to the feeling of having your shit together."
"Grind and hustle for you. Not because you care about what other people think. Stop looking for other people to validate you."
"Success in life comes when you simply refuse to give up, with goals so strong that obstacles, failure, and loss only act as motivation."
"Discipline is just choosing between what you want now and what you want most."
"Excuses will always be there for you. Opportunity won't."
Never quit.
If you stumble get back up.
What happened yesterday no longer matters.
Today's another day.
So get back on track and
Move closer to your dreams and goals.
You can do it.
"If you're still broke…the grind includes Sunday!"
"Keep your head up. God gives his hardest battles to his strongest soldiers."
"The best thing someone can do is tell me I can't do something. Thanks for the coal. I'll light the fire."
"Starve your distractions. Feed your focus."
"The pain you feel today will be the strength you feel tomorrow."
"I wish everyone well, but you need to focus on yourself. You need to stop putting your hand out. Everyone wants hand outs. Everyone wants things for free. You've got to put in the work. You've got to grind. You've got go through the struggle, and you've got to get it." –
Conor McGregor
"Don't expect people to understand your grind when God did not give them your vision."
"Do something today that your future self will thank you for."
Every time you…
Stay out late
Party all weekend
Sleep in
Miss a workout
Overreact
Sit on the couch
Go grab a beer or a drink
Say you'll start tomorrow
Complain
Don't give 100%,
The other guy is winning and you are losing: remember that.
"Strength is the product of struggle. You must do what others don't to achieve what others wont." – Henry Rollins
"Grind while they sleep. Learn while they party. Live like they dream."
"Don't downgrade your dream just to fit your reality. Upgrade your conviction to match your destiny."
"It ain't about how hard ya hit. It's about how hard you can get it and keep moving forward. How much you can take and keep moving forward. That's how winning is done!" – Rocky Balboa
"What I lack in talent, I compensate with my willingness to grind it out. That's the secret of my life." Guy Kawasaki
"Life isn't about finding yourself. Life is about creating yourself."
"You don't want to look back and know you could have done better."
"Hustle until you no longer have to introduce yourself."
"The secret to change is…
To focus all of your energy,
Not on fighting the old, but
On building the new."
– Socrates
"I don't make excuses. I make results."
"You can't cheat the grind, it knows how much you have invested. It wont give you anything you haven't worked for."
"The best way to learn is by doing. The only way to build a strong work ethic is getting your hands dirty." – Alex Spanos
"Suffer the pain of discipline.
Or, suffer the pain of regret."
"Push yourself because no one else is going to do it for you."
"They want you to shine as long as you don't outshine them. Everybody loves you until you become competition."
"When you find your why, you find a way to make it happen." Eric Thomas
"No one cares about your problems. Work harder."
"The difference between greed and ambition is a greedy person desires things he isn't prepared to work for." – Habeeb Akande
"Never stop doing your best just because someone doesn't give you credit."
"Hard work beats talent when talent doesn't work hard." – Tim Notke
"5AM – The hour where either legends are either waking up or, going to sleep."
"Hard work without talent is a shame, but talent without hard work is a tragedy"
― Robert Half
It will hurt.
It will take time.
It will require dedication.
It will require willpower.
You will need to make healthy decisions.
It requires sacrifice.
You will need to push your body to its max.
There will be temptation.
But I promise you…
When you reach your goal,
It's worth it.
"Developing a good work ethic is key. Apply yourself at whatever you do, whether you're a janitor or taking your first summer job, because that work ethic will be reflected in everything you do in life." – Tyler Perry
"You cannot afford to live in potential for the rest of your life; at some point, you have to unleash the potential and make your move." Eric Thomas
"Though you can love what you do not master, you cannot master what you do not love."
― Mokokoma Mokhonoana
"Deep inside you…there is a person who refuses to be kept deep inside you."
"Look in the mirror. That's your competition."
"You won't get much done if you grind only on the days you feel good."
"A dream does not become reality through magic; it takes sweat, determination and hard work." – Colin Powell
"You can't have a million dollar dream with a minimum wage work ethic."
"Some of you love sleep more than you love success. If you want to be successful, you gotta be willing to give up sleep. If you go to sleep, you might miss the opportunity to be successful." Eric Thomas
"Your friends will believe in your potential, your enemies will make you live up to it." ― Tim Fargo
"Work hard in silence. Let success make the noise."
"Without hustle, talent will only carry you so far." – Gary Vaynerchuk
"You are only confined by the walls you build yourself."
"Success isn't always about greatness. It's about consistency. Consistent hard work leads to success. Greatness will come." – Dwayne "The Rock" Johnson
"Don't be worry about the next man..make sure your business is tight." – Dr. Dre
"My entire life can be summed up in four words: I hustled. I conquered."
"When you're in the day-to-day grind, it just seems like it's another step along the way. But I find joy in the actual process, the journey, the work. It's not the end. It's not the end event." Cal Ripken, Jr.
"Invest in your dream. Grind now and shine later."
"You're not going to become a beast overnight. Grind every day until you become one."
Plans are only good intentions unless they immediately degenerate into hard work. Peter Drucker
"There are no shortcuts to any place worth going." ― Beverly Sills
I see you grinding.
I see your patience.
I see your late nights.
I see your early mornings.
It will pay off.
– The Universe
"Pain is temporary. It may last for a minute, or an hour, or a day, or even a year, but eventually it will subside and something else will take its place. If I quit however, it will last forever." Eric Thomas
"Successful people are not gifted; they just work hard, then succeed on purpose."
"No one understands and appreciates the American Dream of hard work leading to material rewards better than a non-American." – Anthony Bourdain
"Live the Life of Your Dreams. When you start living the life of your dreams, there will always be obstacles, doubters, mistakes and setbacks along the way. But with hard work, perseverance and self-belief there is no limit to what you can achieve." ― Roy T. Bennett
"It is easy to make promises – it is hard work to keep them." -Boris Johnson
"Everybody wants to be famous, but nobody wants to do the work. I live by that. You grind hard so you can play hard. At the end of the day, you put all the work in, and eventually it'll pay off. It could be in a year, it could be in 30 years. Eventually, your hard work will pay off." -Kevin Hart
RELATED QUOTES