Determination Affirmations For Success & Productivity
Want more self discipline so you can get more done?
Here are a list of the best positive affirmations for determination and persistence so you can achieve your goals and have more success in life and business.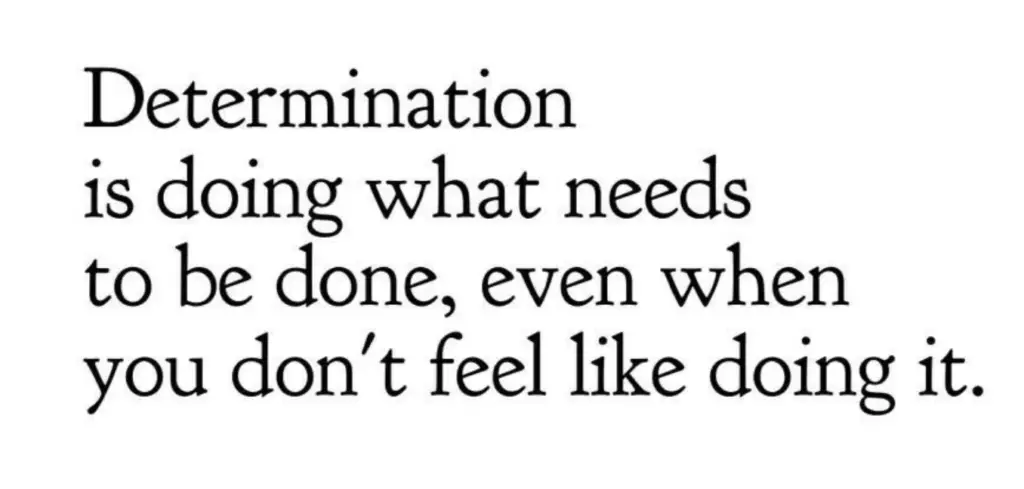 Affirmations for Persistence
I am committed to anything I put my mind to.
I will follow through with every choice I make.
Everyday I will keep moving forward.
I take action every day towards my goals.
Nothing will stop me from getting what I want.
Everyday I am attracting everything I desire in life.
I will do whatever it takes to reach my highest potential.
There is nothing and no one that can stop me from doing what I strive for.
I welcome challenges and will persist through the hard times.
I realize there will be obstacles but I have the strength to get through them.
I have an unshakeable perseverance.
Affirmations for Getting Things Done
I can accomplish anything I set my mind to.
I have a focused mind that is clear of distracting thoughts.
I can tackle any project with effort and ease.
Focusing on tasks comes naturally to me.
I am willing and able to get things done on time.
My focus is sharp and disciplined.
Affirmations for Self Discipline
Nothing distracts me.
I am focused.
I am productive and I pay close attention to detail.
I find it easy to direct my attention on important tasks and not get distracted.
I work diligently everyday and set goals for myself.
I am consistent in my disciplinary habits.
I am disciplined.
Affirmations to Accomplish Goals
I am a magnet for success.
I feel accomplished when I reach a goal.
I know that hard work pays off and I am fully committed.
Progress and effort is all that matters.
I don't participate in leisure activities until my work goals have been met.
I set goals everyday and strive to achieve them.
Focusing on my goals gives me something to work towards.
I have good work habits.
I am patient.
Affirmations for Not Giving Up
I will never quit.
Failure is not an option.
I am a survivor.
I am in control of my destiny.
I will keep moving forward.
I am fully committed to my goals and objectives.
I am determined to achieve great things in my life and won't stop until I get it.
I release all negative programming of self doubts and fears that keep me from moving forward.
No matter how hard it gets, I will never surrender.
I am so close to my goals, I will not give up.
Want more?
Visit our guide to affirmations.
Tips For Having Determination
If you want to learn how to boost your determination so you can accomplish your goals, here are four key factors:
1. Be Consistent & Form Good Habits
Getting stuff done is all about your rituals and consistency. It's about creating and implementing a campaign of daily thoughts, choices, and actions that form your habits.
People often lose momentum because they are not consistent. One day is great, another day is okay, and the next day is not so good or "bad".
While it is important to not beat yourself up over having an off day, what is more important is just sticking to your commitments and being consistent.
Life is made up of micro-moments where each second you have the opportunity to choose what you want.
Stay consistent and form good habits and your determination will skyrocket.
2. Welcome Challenges
You have to have the mindset that already knows and anticipates that challenges are going to come. No matter what, there will be obstacles and hurdles for you to have to overcome.
So by accepting the fact that they will be there and having the mindset that you want them, this helps you to breakthrough these challenges and be more determined to follow through with your tasks.
3. Own Your Mornings
The first choice you make in the morning sets the tone for the rest of the day. Having a determined mindset starts with when you decide to get out of bed and how you spend your morning.
If you get up late and are lazy, that will set the tone for the rest of day in a negative way.
But if you wake up early and are disciplined enough to stay focused and get more done, then you will see that the rest of the day you will continue in this tone.
So own your morning.
4. Increase Your Intensity
Most people live their lives at a very low intensity. They are sleep walking and barely getting by.
Just look at any successful athlete or business person and you will see that they are intense. They are obsessed with their mission.
If you want to be more determined to get more out of life or business, you need to push yourself to increase your intensity level.
Doing 16 sets at the gym? Do 20 next time.
Working 8 hours at the office? Do 9 hours next time.
Running 2 miles in the morning? Wake up earlier and do 3.
Unless you hire a coach, no one is going to push you so you will need to be your own coach and push yourself.
Quotes For Determination
Determination becomes obsession and then it becomes all that matters – Jeremy Irvine
Desire is the key to motivation, but it's determination and commitment to an unrelenting pursuit of your goal – a commitment to excellence – that will enable you to attain the success you seek. – Mario Andretti
It's not about money or connections — it's the willingness to outwork and outlearn everyone… And if it fails, you learn from what happened and do a better job next time. – Mark Cuban
People driven by intention are described as having a strong will that won't permit anything to interfere with achieving their inner desire. – Wayne Dyer
It is less about becoming a better person, and more of being better, as a person. ― J.R. Rim
What this power is I cannot say; all I know is that it exists and it becomes available only when a man is in that state of mind in which he knows exactly what he wants and is fully determined not to quit until he finds it. – Alexander Graham Bell
Your hardest times often lead to the greatest moments of your life. Keep going. Tough situations build strong people in the end. ― Roy T. Bennett
The price of success is hard work, dedication to the job at hand, and the determination that whether we win or lose, we have applied the best of ourselves to the task at hand. – Vince Lombardi
The thing about a hero, is even when it doesn't look like there's a light at the end of the tunnel, he's going to keep digging, he's going to keep trying to do right and make up for what's gone before, just because that's who he is. ― Joss Whedon
If you are going through hell, keep going. – Winston Churchill
A dream doesn't become reality through magic; it takes sweat, determination and hard work. – Colin Powell
Failure will never overtake me if my determination to succeed is strong enough. – Og Mandino
A difficult time can be more readily endured if we retain the conviction that our existence holds a purpose – a cause to pursue, a person to love, a goal to achieve. – John Maxwell
Keep your dreams alive. Understand to achieve anything requires faith and belief in yourself, vision, hard work, determination, and dedication. Remember all things are possible for those who believe. – Gail Devers
To conquer frustration, one must remain intensely focused on the outcome, not the obstacles. ― T.F. Hodge
The price of success is hard work, dedication to the job at hand, and the determination that whether we win or lose, we have applied the best of ourselves to the task at hand. – Vince Lombardi
You've got to get up every morning with determination if you're going to go to bed with satisfaction. -George Lorimer
Some people dream of success… while others wake up and work hard at it. – Unknown
It's not about perfect. It's about effort. And when you implement that effort into your life… every single day, that's where transformation happens. That's how change occurs. Keep going, remember why you started.
Want more inspirational quotes?
Resources For Determination